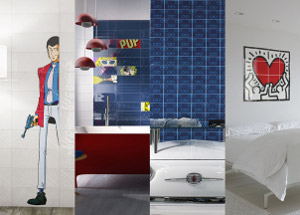 Comics and pop art inspired many new tile products on display at Cersaie.
Trending ceramic tile styles were on display at Cersaie, held in Bologna, Italy.
According to show officials, the show was teeming with design, craftsmanship and innovation with nearly 1,000 exhibitors from 38 countries introducing their latest products to the market.
Designers drew inspiration for these new products from comics, the 19th century, classic patterns, nature and modern mosaics—to name a few. The following are 10 of the top trends rounded from the recent show:
Boom. Pop. Wow!
Among the abundance of graphic tiles at Cersaie, many companies turned to the world of comics and pop art to create playful collections of functional wall art. Imola and Ascot paid tribute to pop artists, Roy Lichtenstein and Keith Haring, while Del Conca presented animated characters from the popular Japanese manga series, Lupin the 3rd.
Marble 2.0
While some companies focused on luxurious white marble such as calacatta, carrara and statuario, others continued to expand their marble lines to include creamy tones of travertine and darker hues like Saint Laurent and Berimbau. In addition, novel shapes (hexagon and chevron), overlaid designs and three-dimensional surfaces (pillowed edges and linear folds) were added to the mix.
Hexalove
In terms of shapes, it was undoubtedly the year of the hexagon. A far cry from traditional hexagonal tiling, this new crop includes macro and micro sizes, rhombille tiling effects, irregular cutouts, and encaustic, concrete, marble, wood and brick designs. Collections included Marvel Pro by Atlas Concorde.
Custom-Made
Customization is like catnip for architects and designers, and tile companies are responding with flexible systems for creating tailor-made compositions. Robert Dawson designed a ceramic tile series for Bardelli with a sinuous silkscreened pattern that can be freely rotated and randomly combined while Lavinia Modesti and Javier Deferrari developed a comprehensive line of hexagonal tiles for Mirage that can be studded into each other or configured into countless combinations.
Modern Mosaics
Innovative mosaics were everywhere—from playing with the dimensions of traditional penny, hexagon and brick mosaics to introducing completely new formats such as linear, diamond and organic shaped tesserae. Arty by Atlas Concorde, Visia by Ava and Alea by Brix were just some examples of this trend.
Cementine
The inherent charm and beauty of encaustic cement tiles from the turn of the 19th century inspired many collections at the fair. Putting a modern spin on the classic tiles, some were overlaid onto concrete, terra cotta and stone designs while others presented crisp or fading patterns. Collections included One by Caesar, Caterina Sforza by Cedir and Keramos by Century.
Black & White
Although the entire color spectrum could be found at Cersaie, from dusty hues to vibrant pop colors, there was a significant return to classic black and white with added effects such as fading reliefs and op art graphics. Collections included Flexible Technic by Sant'Agostino and Deco d'Antan by Tagina.
Metallized
Coinciding with the romanticism of industrial spaces, many companies showcased metallized tiles exhibiting the sheen of platinum and bronze or the weathered effects of rusted steel and oxidized copper. Collections included Fluido by Ariana and Fusion by Astor.
Neu Wood
The world's forests are a continual source of inspiration for tile manufacturers who continue to explore new frontiers in ceramic wood. While some companies are inspired by the charming imperfections and character of rustic and recycled lumber, others are drawn to special techniques, such as charring, or adding a polished or glazed finish for a touch of sophistication and glamour. Collections included Yaki by 41zero42, Dolphin by ABK and Bord by Atlas Concorde.
Hi-Tech Tiles
According to show officials, Italian manufacturers are the industry's leading tastemakers but they are also pioneers in technology, moving tile beyond its traditional role as a floor and wall covering and into the realm of smart materials. ABK Group unveiled a revolutionary technology that adds elasticity to porcelain tile, ensuring perfectly flat installations, while Piemme launched a series of hi-tech tiles with embedded photovoltaic cells to create self-illuminating outdoor flooring.
For more information, visit cersaie.it