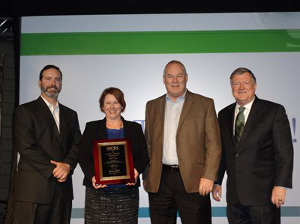 From left: David Jolly, J+J Flooring Group; Susan Farris, Shaw Industries; Jim McCallum, Milliken; and Joe Yarbrough, CRI at CRI's Annual Membership Meeting.
The Carpet and Rug Institute (CRI) held its Annual Membership Meeting on Wednesday, Nov. 12 in Dalton.
Jim Kirkpatrick, treasurer of CRI reported a clean audit for the carpet manufacturing trade association and presented the 2015 budget.
David Jolly, CRI chairman welcomed Jim McCallum, president of the Floor Covering Division at Milliken & Co., to the board and recognized appointments to the policy committee.
A highlight of each year's meeting is the presentation of the Joseph J. Smrekar Memorial Award. Established by Milliken, the Smrekar award honors the late Joe Smrekar who served on a number of CRI committees. Milliken established the award in order to recognize individuals who show similar exemplary service to the carpet and rug industry, according to the company.
Recipients of the Smrekar award are chosen by CRI staff members, and this year Susan Rich Farris from Shaw Industries was the winner.
"We're blessed to have people like Susan Farris who give their time and talents to advancing CRI," said Joe Yarbrough, CRI's president. "It's great to see her honored with this prestigious award."
The first woman to receive the Smrekar award, Farris is the director of corporate communications at Shaw and has been with the company since 1991. She currently serves as chairperson of the Asthma, Allergy, and Dust Task Group. She also works closely with the EPR Communications Task Group, which supports CRI lobbying efforts across the U.S.
John Garger, who passed away earlier this year, was honored with the Chairman's Award for his long-time service to CRI. The award was accepted by his wife, Ginny, and daughters Jessi and Brittany.
"John always went the extra mile for CRI," Yarbrough said. "He was a wonderful volunteer and a great friend to the industry."
At the close of the meeting, Yarbrough thanked Jolly for his leadership as chairman. Dan Frierson, chairman and CEO of The Dixie Group, replaces Jolly as CRI chairman.