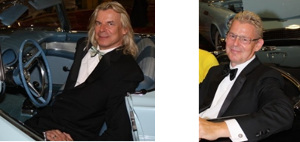 David, left, and Leonard Zmijewski will be honored as this year's CFA Person(s) of the Year.
David and Leonard Zmijewski will be honored as this year's Person(s) of the Year at the Chicago Floorcovering Association's (CFA) Presidential Awards Dinner, Dec. 12 at the Abbington Banquets, in Glen Ellyn, Ill.
The Zmijewski brothers got their start in the industry in the 1970s, working as carpet installers doing residential work in Chicago. Since then, the brothers founded Mr. David's Flooring International and have grown their business into a multi-faceted commercial flooring installation company—even expanding their business internationally.
According to the brothers, they base their success on being well respected by their employees and peers. The Zmijewski brothers are also known for their philanthropic efforts, sponsoring charity events and donating to various charitable organizations annually.
CFA will publish a commemorative book which will allow friends, colleagues and business associates to congratulate the Zmijewski brothers for their achievements in the industry. All proceeds from this book will be donated to the CFA Scholarship Fund which annually awards education scholarships to the children and grandchildren of CFA members.
For more information, visit chicagofloorcoveringassociation.com.