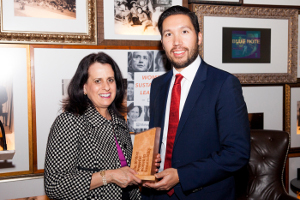 Mohawk's Rochelle Routman accepts the top honor in female sustainability leadership in the category of manufacturing from Green Building & Design's Christopher Howe.
Rochelle Routman, director of sustainability at Mohawk, was named one of the 10 Most Powerful Women in Sustainability by Green Building & Design for environmental leadership in the category of manufacturing. The recipients of the Women in Sustainability Leadership Award illustrate the importance of diversity in the sustainability field, and inspire to infuse more positions with sustainability-related responsibilities. The inaugural awards took place in San Francisco, honoring all 10 women, including environmental influencer and former secretary of state Hillary Clinton.
"With enthusiasm, guidance and leadership, Rochelle has been a true champion when it comes to driving Mohawk Group's commitment to sustainability, and we are extremely proud to have her as part of our team," said Michel Vermette, senior vice president of commercial and international at Mohawk. "Rochelle's sustainability initiatives have been instrumental across the enterprise as she leads a cross-functional team that is made up of all employees from Mohawk Industries."
According to Green Building & Design, Routman and the rest of the award recipients are shaping the way the green industry makes, thinks and builds. The challenge of sustainability has opened new opportunities for women in the field of sustainability, which are typically filled by men. Workforce diversification and transformation of workplace cultures have infused organizations with top-down sustainability goals and building teams with visionary leadership which is beginning to include both women and people of color.
"It is simply amazing to be in the company of environmental women leaders who are challenging their respective industries and being recognized for the important work that is being done to defend our planet," said Routman.
For more information, visit mohawkgroup.com.