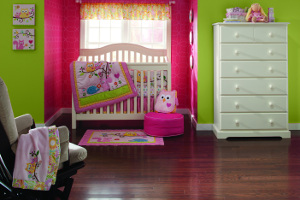 Mullican's new Newton Collection of oak flooring.
Mullican Flooring has developed a new engineered collection to add to its roster of Made-in-America products.
Only available in oak, the Newtown Collection is a ½-inch-thick flooring offered in five colors, including Natural, Gunstock, Saddle, Bridle and Granite. Developed for residential builders seeking an engineered alternative to ¾-inch-thick solid oak flooring, the collection is offered in 3- and 5-inch widths.
"More and more builders are switching to engineered products due to stability in both pricing and structure," said Brian Greenwell, Mullican's vice president of sales and marketing. "The Newtown Collection is the perfect product to fit this need."
The Newtown Collection builds on Mullican's existing Made-in-America engineered collections—LincolnShire, HillShire, Ponte Vedra, San Marco and RidgeCrest. In addition, the new product offering is protected by Mullican's Alpha A'lumina Real World Finish, a third-generation aluminum oxide finish with a subtle satin look. Alpha A'lumina is backed by a 25-year finish wear-through warranty.
In 2012, Mullican relocated its corporate headquarters to a larger facility in Johnson City, Tenn., where it launched equipment for manufacturing engineered hardwood floors for the first time on U.S. soil. The company had previously offshored this segment of production to Asia.
One of the nation's top five hardwood flooring producers, Mullican also operates manufacturing facilities in Norton, Va.; Holland, N.Y., and Ronceverte, W.Va.