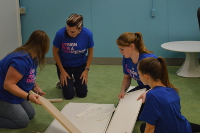 The Design for a Difference team building cabinetry to store items given to the children, such as school supplies, Halloween costumes and winter coats.
A range of Kansas City businesses joined sponsor Madden-McFarland Furniture & Design Boutique in supporting the Design for a Difference contest beneficiary, Operation Breakthrough. The organization, founded in 1971 by Corita Bussanmas and Berta Sailer, is a single-site early education and social services facility in Missouri, serving 400 children from very low-income families in the urban core. Operation Breakthrough's mission is to help children develop to their full potential by providing them a safe, loving and educational environment, according to the organization.
The national interior design contest, sponsored by CCA Global's International Design Guild (IDG), named designer Stephanie Stroud the winner. According to the buying group, Stroud's entry was chosen for its design appeal and ability to have a powerful and positive impact on the winning charity. Stroud and Madden-McFarland received $25,000 in goods and services to execute the design for Operation Breakthrough.
Stroud and associates will create a whimsical, park-like space with a library feature for both the children and their teachers to use. She has also redesigned two storage rooms—one for seasonal items that are given to the children, such as school supplies, Halloween costumes and winter coats. The other is a "Home Goods Store" where the children's families can get donated clothing and household items free of charge. The final space is a workroom where parents can get Internet access to look for jobs, visit with each other and meet with social workers.
"I could not be happier to have won such an exciting contest and to be giving this makeover to Operation Breakthrough," she said. "Not only is the space in much need of an overhaul, but the women and children who will be using this space are so deserving. Kansas City is a close knit community and the response that we have received from both volunteers and suppliers is something to be proud of."
Patrick Madden of Madden-McFarland said, "We are beyond thrilled that local designer, Stephanie Stroud, was chosen as the national winner of IDG's Design for a Difference contest. Operation Breakthrough provides essential services to hundreds of families in our community and we look forward to creating a magnificent space for the children and their families to enjoy."
Additional support came from sponsors Shaw Industries and Dabbieri Collection, as well as companies including American Floor Covering Institute, Wood Wallcovering, Sherwin-Williams and Reilly Painting.