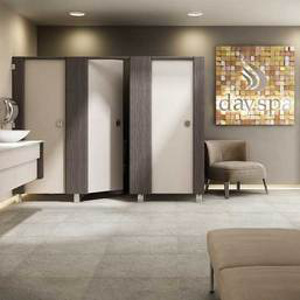 Dal-Tile's new Industrial Park ColorBody Porcelain featuring StepWise.
Dal-Tile's new Industrial Park ColorBody Porcelain features StepWise, a solutions-based technology to meet evolving commercial industry standards, according to the company. The collection is being offered under the Daltile brand.
Providing a dynamic coefficient of friction (DCOF) that is among the highest in the market, (.68<) Industrial Park can be used in a variety of unprecedented applications, including interior ramps. The collection includes a cove base accent that creates a seamless transition from tile to trim. This coordinating cove base is ideal for regions with building codes that require a sanitary trim, particularly in hospital and food settings. 
"At Dal-Tile, we always champion the best solutions for our customers to meet their needs as industry standards are changing," said Lori Kirk-Rolley, vice president of brand marketing for Dal-Tile. "From safety to sanitation requirements, we want our customers to have access to products that go above and beyond the standards, delivering not only performance and function, but also beauty."
For more information daltile.com.