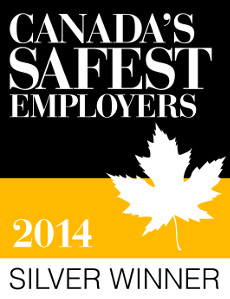 Tarkett's Waterloo, Canada plant has received Canada's Safest Employers Award.
Tarkett's Waterloo, Canada, commercial plant is the Silver winner of Canada's Safest Employers Award. Twenty-seven winners were recognized at a gala event in Toronto.
Launched in 2011, Canada's Safest Employers Awards, hosted by Thomson Reuters and Canadian Occupational Safety magazine, recognize companies from all across Canada with outstanding accomplishments in promoting the health and safety of their workers.
The award boasts 10 industry-specific categories, ranging from hospitality to mining and natural resources. Companies are judged on a wide range of occupational health and safety elements, including employee training, OHS management systems, incident investigation, emergency preparedness and innovative health and safety initiatives. In addition to meeting specific criteria, employees of the entrant companies are required to complete a survey regarding safety aspects in their company. Judges of the award consist of a panel of industry professionals throughout the Canadian safety, health and environment sector.
The Tarkett Waterloo site manufactures Johnsonite-branded commercial wall base consisting of over 50,000 active SKUs. The plant began production in 1984 and runs year-round, 24 hours a day, seven days a week over four continual shifts. Safety and maximizing capacity has always been the priority. The facility consists of a 30,000 square foot building over five acres of land.
"Safety, consistency and customer service has been [at our] core for a long time, and it is gratifying that our team's efforts have been recognized by such an organization in Canada," stated Jodi Coburn, vice president in Canada for Tarkett.
According to Coburn, the company's plant-wide focus on safety has allowed it to reduce claims fees, insurance premiums and injuries, as well as achieve OHSAS 18001 Certification. The Waterloo plant has also received an award from the Excellent Manufacturing Consortium Group for seven years of no lost time accidents.
For more information, visit tarkett.com.