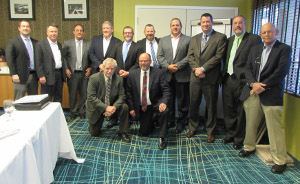 Members of Carpetland USA's Buying Committee met in Chattanooga, Tenn., to review new products and make merchandising decisions. 
Carpetland USA ColorTile held its Buying Committee Meeting in Chattanooga, Tenn., at Spring Hill Suites/Cameron Harbor. 
"Our Carpetland buyer meetings give members valuable time with mill executives and they give them a chance to see new products and discuss special group buys as well as make merchandising decisions," said Kevin Logue, co-COO and vice president of marketing. "Being a member of our group allows members to get first-hand product and industry information from the mills to help them grow their business. They also provide valuable time to network and share best practices."
Kevin Rose, owner of two Carpetland stores in Illinois, and winner of the 2013 Carpetland USA Retailer of the Year award added, "It's nice to see everybody again and see all the new products. We were able to make some decisions on key products and volume drivers. I was also excited to see the new ColorTile hard surface displays. This was a great meeting."
The group also visited several mills in north Georgia to review new flooring products and decide what products they will inventory and which programs to employ in 2015.
Tom Peeters, vice president of Carpetland in Virginia commented, "I appreciate the mill executives taking time to talk with us about the new products and they addressed some of our concerns as well. We got a lot accomplished."
Logue added, "This was a very productive meeting. Really, it was the best we've ever had. Fashionable new products were chosen from our supplier partners as well as some more value-oriented items they needed to round out their mix on the showroom floor."