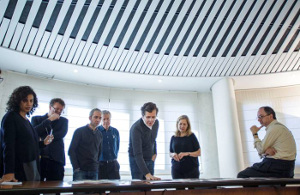 Tile of Spain Awards panel of judges deliberating.
The winners of the 13th edition of the Tile of Spain Awards have been announced.
The contest's judges awarded first prize in the architecture category to the project entitled "House in Príncipe Real" (Lisbon) by the Camarim Arquitectos Studio. The judges praised this project, highlighting in particular "the brilliant interpretation in the use of ceramic tiles in Lisbon's historic quarter. The house, built on five floors, looks out onto the street boasting a new textured take on the traditional ceramic tile facade."
Also in the architecture category, the judges also awarded two special mentions to "Casa El Enroque" by Ángel Luis Rocamora and "Casa Andamio" by bosch.capdeferro arquitectures.
First prize in the Interior Design category was awarded to the project entitled "Restoration of the Cloister at Betxí Castle" by El Fabricante de Espheras studio. The judges remarked on the conceptual transformation of the interior space of the cloister through the inclusion of a large mirrored surface that forms a "virtual construction" of half of the lost Renaissance cloister. The work focuses on recovering the cloister space by including a traditional terracotta wall.
Special mentions to projects in the interior design category were given to "Bodebo Store" by Cavaa and "Restoration of the Administration Hall of the Sant Pau Art Nouveau Site" by Joan Nogué Arbussa.
The Tile of Spain Awards also include a category to acknowledge the best final degree project undertaken by students at architecture schools where the use of ceramic tiles plays a major role.
The judges awarded first prize in the final degree project category to 'Alfama 2.0' by María González Aranguren, a student at the Madrid School of Architecture. The judges were impressed by this project to restore Lisbon's Alfama district, making particular mention of the high standard of the proposal, both in terms of urban planning and architecture. They also admired the optimistic construction interpretation of Lisbon's traditional ceramic tile facades.
Special mentions were also awarded to 'Re-inhabiting Bujalcayado' by Irene Iglesias Román and "La Nuit Américaine" by Luis Rodríguez Carnero, both students at the Madrid School of Architecture.