The Impact of LED on Energy and Patients
As a faith-based ministry, Elim Rehab and Care Center recognizes the importance of an individual's spiritual growth and care. To complement these tenets, the center recently completed a major $4 million, 18,500-square-foot renovation and expansion of its Fargo, N.D., facility that created 20 private single-occupancy rooms and made rehabilitation services more accessible and person-centered. St. Paul, Minn.-based Pope Architects was retained by the center for repositioning its Fargo campus through master planning, architectural and interior design.
The first phase, completed in March 2012, included converting shared rooms to private, adding a new 20-bed transitional care unit, and adding new dining, lounge and therapy space to revitalize the campus. The design creates neighborhoods within the existing care center with decentralized dining and activity areas to build community among staff and residents.
One key element that the Pope team implemented was a change in lighting design and technology. Prior to the renovation, the shared rooms were illuminated only by over-bed fixtures, which created very dimly lit rooms. Jill Schroeder, CID, an interior designer for Pope Architects, made dramatic improvements to the lighting because she knows how impactful it can be in a space.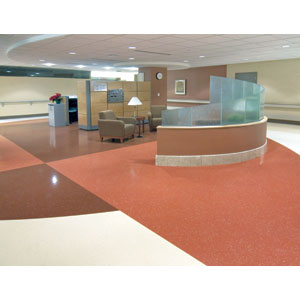 noraplan environcare provided administrators at Regions Hospital in St. Paul with a low-maintenance flooring solution that doesn't require waxing or finishing. (IMAGE COURTESY OF NORA)
"First, we renovated the shared rooms to private rooms and upgraded the lighting from one light source to three, which completely transforms the space," comments Schroeder.
Kenall retrofit light sources in each resident room are: an updated over-bed fixture, an entry fixture and an LED nightlight on a separate control system. The fixtures selected were chosen for their extensive use in the senior housing and healthcare industry. They have many flexibility and efficiency benefits, and also complement the Danish Modern design of the upgraded center with their sleek, contemporary style.
Residents and staff have commented on the improved lighting for comfortable living and general illumination. The over-bed light source enhances the resident-centered care delivery model by giving residents greater flexibility and independence, such as a reading light option. Additionally, the LED nightlights have greatly reduced interruptions of sleeping residents when staff members visit during nightly rounds.
Elim recently won two awards for the renovation: the Environments for Aging 2012 Remodel/Renovation Competition "Best in Category – Resident Rooms;" and the Minnesota Chapter of the Society for the Advancement of Gerontological Environments, 2013 Design Showcase Citation of Merit.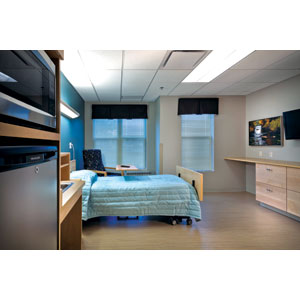 A lighting renovation with sources from Kenall allowed the Elim Rehab and Care Center in Fargo to create a more comfortable environment for patients and staff. (IMAGE COURTESY OF KENALL)
Rubber Flooring Offers Aesthetics and Functionality
Regions Hospital in St. Paul, Minn., provides healthcare services for the greater Twin Cities area as well as surrounding communities throughout Minnesota and western Wisconsin. Offering a broad range of specialty care, a nationally recognized burn center and a Level 1 trauma center, Regions Hospital boasts an extensive active medical staff and is among the largest private employers in St. Paul. Recently, Regions added a new 11-story patient tower to its campus to enhance the patient experience. The new building prompted many material considerations, but when it came to selecting the proper flooring, decision-makers at Regions were determined to find a low-maintenance solution that did not require waxing or finishing.
In addition to floor maintenance procedures, planning officials invested an extensive amount of thought and consideration into the material selection for the new tower.
"We did a lot of comparisons, evaluating cost, acoustics, maintenance and other factors, as the hospital evaluated both the long-term effects of the materials and how daily activities would affect them over time," explains Cindy Saathoff, senior interior designer, AECOM. "There were so many things we had to look at, both design-wise and from a functionality standpoint."
Saathoff, who was integral to establishing a cohesive look that still met demanding performance requirements throughout the facility, explains that the flooring in each wing of the new tower was color-coded to foster design continuity. The design of soft, neutral colors was intended to not only soothe the minds of patients, but also to achieve a consistent look throughout the new building.
"The main palette of the new hospital is light and neutral, so when we successfully completed the design of the South Tower, we were asked by the hospital to apply the palette to the existing facility circulation spaces, giving them an updated, fresh appearance," adds Saathoff. "Along with achieving a consistent look throughout the buildings of the campus—new and old—there were certain areas in which we ripped out carpet, sheet vinyl and VCT, and we installed nora, which is quieter, more durable and more accommodating to heavy rolling beds and machines."
The color options and enhanced acoustics of the facility's rubber flooring are matched by the low maintenance requirements that have had a positive impact on the staff.