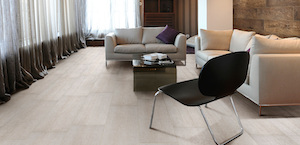 Urban Posh tile collection, new from Ragno USA.
Ragno USA's Urban Posh tile collection integrates the textural look of a classic linen suit with the durability of glazed porcelain. Urban Posh uses 3-D digital printing technology to capture the natural textural imperfections of handcrafted linen fabric.
Available in four hues—white, beige, grey and charcoal—the collection offers a soothing neutral color palette with interesting textural patterns ideal for residential or commercial applications.
For more information, visit ragnousa.com.