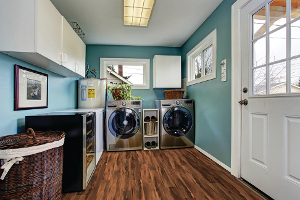 CoreTec One Waterproof Engineered Flooring, new from Beaulieu America and USFloors.
Beaulieu America has reached a distribution agreement with USFloors for a new line of waterproof products.
Featuring USFloor' patent pending CoreTec technology, this new line will allow Beaulieu to expand beyond its current assortment of Bliss luxury vinyl tile and plank products, according to the company. Beaulieu will market these new products under the Bliss CoreTec One Waterproof Engineered Flooring brand.
"These products fill a real need in the marketplace for high quality, affordable, waterproof flooring in applications where traditional laminate and wood flooring may be too risky," commented Stan Bouckaert, director of hard surfaces for Beaulieu. "Unlike [certain products], new Bliss CoreTec One can be safely installed in locations that may experience moisture—such as kitchens, bathrooms, laundry rooms and basements. And I think dealers will find they can hit a price point that will truly make these 'go-to' products."
This new collection is being launched in January.