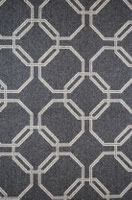 Wools of New Zealand mill partner, Prestige Mills will display its new Fleetwood design at TISE.
Wools of New Zealand mill partners will show the versatility of New Zealand's pure wool with sophisticated designs and colors ranging from natural "undyed" to hundreds of shades at The International Surface Event (TISE) in Las Vegas, Jan. 20 to 23.
At the Wools of New Zealand pavilion at TISE, 23 wool exhibitors will gather on an oasis of green carpet to show the convention a celebration of eco-friendly fashions in today's colors—all illustrating the beauty, softness and durability of New Zealand wool.
Included in the company's mill partner line up will be Design Materials, J.D. Staron Galleries, Legacy Mills, Nourison, Prestige Mills, Stanton Carpet and White Oak Custom Carpet.
For more information, visit woolsnz.com.