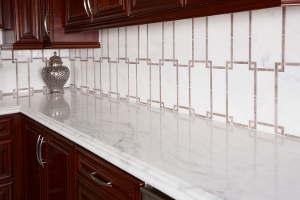 Arizona Tile's new visualizing tools allow customers to create unique designs for their spaces using the company's products.
Arizona Tile has designed three visualizing tools to meet customers' design needs—Just Design, Just Imagine and the Custom Blend Program.
The Arizona Tile Just Design program allows customers to create a custom product from over 70 designs. Once a design is selected, customers may choose from over 27 natural stone and 60 porcelain colors.
Just Imagine is an online tool that helps customers visualize how products will look in their space-before they make a purchase. This custom visualization tool allows users to create their own space in a few easy steps. Paired with the Arizona Tile Custom Mosaic Blend Creator, customers have the tools at their fingertips to create a one-of-a-kind look for their home.
Tile Custom Blend program allows a customer to create a unique design that is perfect for their project. The mosaic can be a combination of glass or stone and glass. The program is available by accessing Arizona Tile's website or by visiting a showroom.
For more information, visit arizonatile.com.