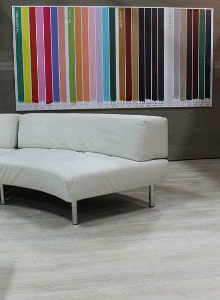 White Wash Oak from Quick•Step's Reclaimé Collection.
The soon-to launch Tudor Oak from Quick•Step's Reclaimé Collection has been selected to floor the "Trends Hub" area of the International Surface Event (TISE) tradeshow, Jan. 20 to 23 in Las Vegas.
TISE's Trends Hub is intended to serve as an inspirational presentation of the latest products from various exhibitors as well as a unique preview of the major color, texture, material, and styling trends for 2015, according to show organizers. Trends Hub will be located in booth B3643.
Tudor Oak is one of several new Reclaimé line extensions launching during the show and can also be seen in Quick•Step's booth S6549.
"Quick•Step is a fashion-based product line that is on pace with the latest styles and trends in interior design, so we are a perfect match for the flooring needs of Surfaces' Trends Hub," said Paij Thorn-Brooks, vice president of brand marketing for Unilin, Quick•Step's parent company. "2015 will be the fourth year in a row that a Quick•Step product has been selected to serve as the floor for this prestigious design and style space."
The Trends Hub area will again be designed by Victoria Redshaw, lead trend forecaster and managing director of Scarlet Opus Limited, an international trend forecasting agency. Redshaw provides information on the colors, patterns, materials, shapes, products and styling that will be desired by consumers in the near future.