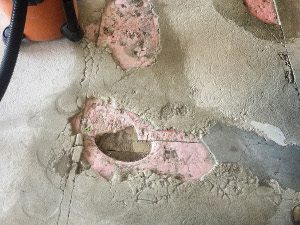 An entry from the HPS Schönox Worst Subfloor Contest. Winners will be announced at the International Surface Event (TISE).
HPS Schönox will reward the winner of its Worst Subfloor in North America Contest on Jan. 22 at 11 a.m. in Las Vegas in the Schönox booth (B3831) at the International Surface Event (TISE).
Last May, Schönox kicked off its contest with a simple question, "Is your company working on a project that has what might be the worst subfloor in North America?" Since then, flooring professionals have responded with subfloor challenges they have faced of all kinds.
"It has been really interesting to see the contest entries and the nightmare subfloor issues that are faced in the field," said Thomas Trissl, HPS Schönox principal. "It's exciting to see how Schönox products and the dedicated professionals who use them have corrected every subfloor situation."
According to the company, the contest is an opportunity for any company charged with making a damaged subfloor smooth and sound to show the tough subfloor conditions that they encountered and how they renovated them using Schönox products. Contest entries were independently judged with first, second and third place winners to be awarded Schönox products based on the severity of the original subfloor's condition, the skill and attention to detail taken in executing the project and the quality of the finished subfloor.
John McGrath, director of the International Standards and Training Alliance (INSTALL); Lew Migliore, president of LGM and Associates Technical Flooring Services, and Jim Walker, CEO of the International Certified Floorcovering Installers Association (CFI), served as judges for the contest.
"Based on the strong response to the first running of the Worst Subfloor in North America Contest, we are already gearing up for the next contest," said Doug Young, executive vice president of Schönox.
For more information, visit schonox.com.