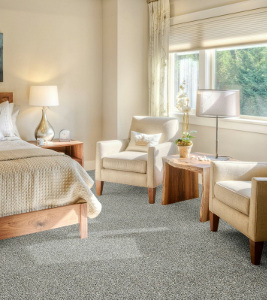 Dream Weaver Carpet and Engineered Floors' new line of nylon carpet, PureColor Solution Dyed Soft Nylon fiber. 
Dream Weaver Carpet and Engineered Floors have revealed a new line of nylon carpet—PureColor Solution Dyed Soft Nylon fiber. This continues the same technology and benefits achieved by the carpet maker with PureColor Solution Dyed PET and PureColor PureSoft Cashmere Solution Dyed PET fibers.
"We see this as the future of nylon carpet," said James Lesslie, assistant to the chairman at Engineered Floors. "With PureColor Soft Nylon, the color goes all the way through the fiber, just like a carrot. Our solution dye technology has revitalized the polyester carpet market producing carpets with industry leading quality, performance and design options. We are now extending our solution dyed manufacturing expertise to soft nylon fibers, but unlike the majority of nylon products currently on the market, ours has built-in stain resistance throughout the polymer. With stain resistance locked into the fiber, a consumer will never have to worry about the stain protection washing or wearing off."
The company will introduce up to 12 products in varying color palettes, weights, styles and textures under the Dream Weaver brand at the International Surface Event (TISE) in Las Vegas, Jan. 20 to 23. TISE attendees can also preview new merchandising displays, as well as a new PureColor Soft Nylon video which highlights the company's newest carpet production facility.