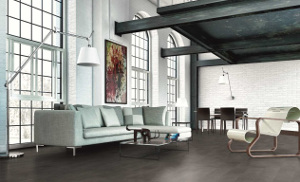 The Stonist, new laminate flooring from Flint Floor.
The latest incorporation to Flint Floor's portfolio of laminate flooring is The Stonist, a series of floorings and coatings specially aimed at kitchens, bathrooms and wellness areas.
Consisting of five models—Loft Cement, Taj, Cloud, Medley and Mirage—The Stonist features different shades and textures of materials such as stone and cement, and according to the company, this new collection is completely waterproof.
High Pressure Block (HPB) technology guarantees the floors' maximum dimensional stability, preventing swelling and deformation due to continued exposure to moisture and leaks, according to the company. The Stonist joins two collections recently submitted by this firm—the Living Floor Collection and the Classic Collection.
Flint's HPB process consists of subjecting the board's core, made of cellulose fibers impregnated with thermosetting resins, to 100-tons of pressure per m². The result is an ultra-compact block, resistant to water, impact, fire, pressure and wear resistance—maintaining its original appearance even in extreme situations, according to the company.
Flint laminate flooring is ideal for the hospitality industry and any environment that requires the flooring to retain its original appearance during a long useful life. With proper installation and maintenance, up to 20 years of useful life is guaranteed, according to the company. In addition, maintenance is very simple and can be carried out using ordinary cleaning products.