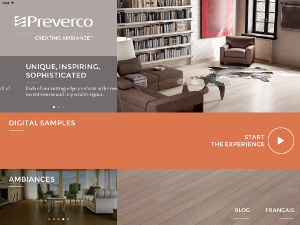 Preverco's new mobile app will be unveiled at The International Surface Event.
Preverco will unveil a mobile application for the iPad at The International Surface Event (TISE) in Las Vegas this week.
The show, which runs through Jan. 23, will will also provide Preverco with the opportunity to present its latest products and the trends for the coming year.
According to Etienne Chabot, Preverco's vice president of marketing, the launch of the mobile application will propel Preverco into the era of augmented reality. "One of the app's functionalities will enable users to view their existing flooring and substitute it virtually with flooring from Preverco. The result is extraordinary, and it will give consumers confidence that they are choosing the right product. The tool will also be welcomed by industry professionals, such as architects, interior designers and retailers."
Preverco hopes to improve the shopping experience for hardwood flooring customers with this mobile application, according to the company. The application will offer access to the entire Preverco catalog, decision-making support and high-resolution rendering of flooring colors and textures.
The mobile application will be available free of charge at the App Store for iPad users.