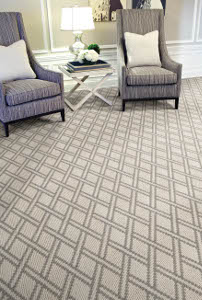 Stanton Carpet's new Atelier Icon Collection.
Stanton Carpet Corp. has introduced the Atelier Icon Collection, which features the company's first-ever Stainmaster PetProtect patterns.
"We are looking forward to the strong results we expect from combining the decorative touch of Stanton with the highly credible Stainmaster brand," said Jonathan Cohen, CEO and president of Stanton.
The Atelier Icon Collection features a total of 32 SKUs in its initial launch of four decorative loop pile patterns—Pioneer Key, Pioneer Interlock, Pioneer Latticework and Pioneer Vector. Each is available in eight SKUs in two color combinations.
Stanton showcased the new collection at The International Surface Event last week in Las Vegas in a new 14–sample display which is also available for dealers. The program will initially be sampled as part of Stanton's existing Atelier display boards and cut sample sets. Mid-year, Stanton will roll out new Atelier Icon displays simultaneous to the introduction of eight additional patterns across two collections for a total of 12 patterns.
According to T.M. Nuckols, senior director, product strategy for Stainmaster brand, "Stanton has an outstanding reputation and complements our brand nicely, living up to the high standards our consumers expect from Stainmaster. We look forward to a long-term, successful relationship."
Stanton introduced its Atelier brand to the market in January 2013 with a 120 SKU launch of printed loop pile and cut pile nylon patterns. This was Stanton's first major foray into patterned nylon carpeting.