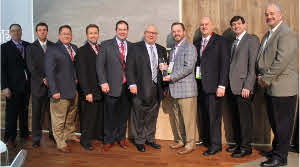 Quick•Step and Cartwright team members together during the presentation of Quick•Step's Distributor of the Year Award at TISE.
Quick•Step named Cartwright Distributing as the recipient of its "Distributor Of The Year" award last week at The International Surface Event (TISE) in Las Vegas.
Presentation of the award took place in the Quick•Step booth during the show. Cartwright is the exclusive Quick•Step distributor in Colorado.
"As our distributor partner, Cartwright continuously excels in its commitment to both Quick•Step and the laminate category," said Shane Calloway, vice president of North American independent distribution sales for Unilin, Quick•Step's parent company. "Cartwright is committed to our brand's products, programs and selling message. It has also excelled at placing Quick•Step products in the right places with the right people. Quick•Step products are exclusively sold through a network of the flooring industry's strongest distributors and Cartwright is an outstanding partner."
The Quick•Step/Cartwright collaboration provides retailers and consumers throughout the entire state of Colorado with the right product mix, merchandising tools, low claims rates, consistent product availability and customer service, Calloway added.
For more information, visit quickstepstyle.com.