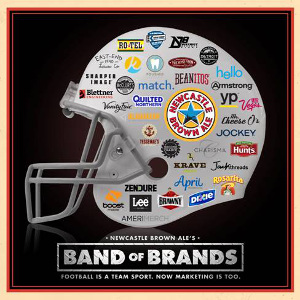 Armstrong flooring is one of 37 brands featured in Newcastle Brown Ale's Super Bowl ad.
Armstrong flooring is part of Newcastle Brown Ale's Band of Brands mega-ad campaign for the "big game," which will air on local NBC-TV stations during Super Bowl Sunday, Feb. 1, in the Palm Springs, Calif., market.
Armstrong is first up in the commercial that humorously squeezes 37 brands into one 60-second ad. This Band of Brands ad by Droga5 Advertising represents Newcastle's latest attempt to poke fun at conventional advertising.
In the ad, a couple jumps around their new house, plugging everything from Armstrong flooring to Beanitos Chips, as logos flash on the screen.
"We've been able to participate in what's probably the world's first crowd-funded big game ad in a really fun way, targeting a millennial audience who appreciates creative advertising, great products and a good laugh," said Mara Villanueva-Heras, residential marketing–Armstrong.
Click here to watch the ad.