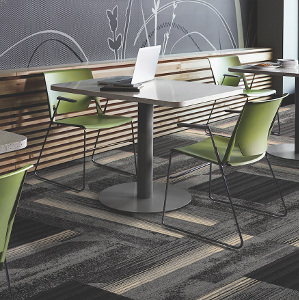 Interface has expanded its Common Theme collection.
Interface has added 25-centimeter x 1-meter skinny plank modular carpet tiles to its Common Theme collection of squares, creating a series that can yield uncommon and distinctive flooring design for a variety of commercial and workplace spaces.
Featuring clean lines and a neutral palette, the trio of additions includes CT111, a seamless look with grids of varying scale that form a collage of latticework; CT112, a diffused design that produces a marbled effect, and CT113, a style that delivers geometry.
Easy to configure into a customized design statement, Common Theme planks and squares can be combined through color, contrast and complementary styling, all with the benefits of simple, glue-free installation and selective replacement.
According to the company, these latest tile options feature up to 70% recycled content, including 100% recycled content fiber that combines reclaimed carpet fiber with salvaged fishing nets.
For more information, visit interface.com.