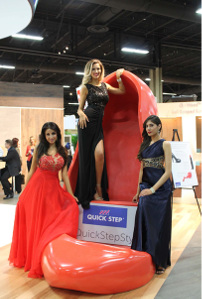 Quick•Step is using style icons to communicate the beauty and durability of its floors.
"Long Live Style Icons" such as a 7-foot tall high heel shoe, a 5-foot tall ruby red tube of lipstick and a giant bottle of nail polish were fun and prominently featured parts of Quick•Step's booth at The International Surface Event—and the brand will continue to weave these eye-catching icons throughout its merchandising during the year.
"Quick•Step floors have always been about how well your style works with your lifestyle," said Paij Thorn-Brooks, vice president of brand merchandising for Unilin, Quick•Step's parent company. "The giant style icons in our booth were a fun way to catch the eyes of our booth visitors and encourage them to find out more about Quick•Step's durability. Our style icons speak the consumers' language—effectively communicating how household traffic, everyday spills and mishaps are no match for beautiful, stylish Quick•Step floors."
Quick•Step's key performance features such as resistance to dents, fading, wear, dulling, water and scratching are represented in the brand's merchandising through style icons that relate to the reality of consumers' everyday lives. For example, everyday items such as a child's red wagon, high heels, markers, or a glass of red wine are creatively used to illustrate the wear, dent, stain, and water resistance of Quick•Step floors.
"In our 2015 merchandising, we are creatively using situations from everyday life via photography, graphics, video and style icons to effectively communicate the beauty of our Quick•Step floors as well as their superior performance features," said Thorn-Brooks.
This year, the company is predicting strong sales for its entire Reclaimé Collection, including four recently launched line extensions—in part due to Quick•Step's in-store merchandising that correctly positions the products. 
"We are expecting our customers to continue experiencing success with Reclaimé sales during 2015," said Thorn-Brooks. "The new 2015 line extensions as well as the existing Reclaimé products would already be strong sellers on their own, but we are going a step further to effectively position Reclaimé in retail stores in the most optimal way possible this year. As always, all Quick•Step merchandising efforts are geared toward helping our distributors and retailers sell more Quick•Step product."
Quick•Step is offering retailers and distributors an in-store presentation vehicle—the "Reclaimé Focus Display"—for maximum presentation and optimal shop-ability, according to the company. The display is strategically designed to fit into a variety of store layouts as well as into distributor and retailer budgets.