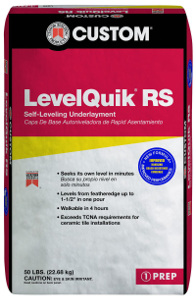 Custom has upgraded the formula of its LevelQuik Self-Leveling Underlayments.
Custom Building Products has upgraded its LevelQuik Self-Leveling Underlayments to a more robust formula.
"In recent years, Custom's research and development team took a special interest in creating new advances in leveler chemistry to upgrade the formulas for these industry-leading products," said Eric Carr, director of construction channel marketing at Custom. "The result is outstanding performance, easy handling and a smooth finish time after time. It's everything tile contractors have come to expect from LevelQuik and more." 
Custom's updated LevelQuik formula provides superior crack resistance, better handling and even greater coverage, according to Carr. Its Controlled Cure Technology regulates the rate at which water evaporates during the curing process, prompting fast and consistent hydration. LevelQuik also helps eliminate installation problems including bond failure, crumbling, and staining of resilient flooring caused by free moisture.
According to the company, LevelQuik products help installers level floors prior to the installation of ceramic tile and natural stone. They can also be used with resilient flooring, carpet, wood and other floor coverings.
Both LevelQuik RS and LevelQuik ES seek their own levels in minutes after pouring. With proper installation, LevelQuik can achieve an extra heavy rating for use in food processing plants, commercial kitchens and other high impact areas. 
For more information, visit custombuildingproducts.com.