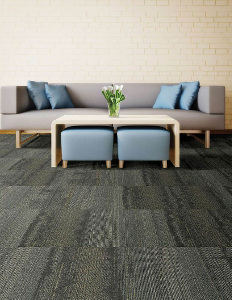 Mannington Commercial showcased its products at Innovations@Domotex during the Domotex trade show.
Hannover Fairs USA's (HFUSA) exhibitor clients, Wool & Silk and Art Resources, received the Capet Design Awards at Domotex in Hannover, Germany.
Staged under the Innovations@Domotex program launched in 2014, the Carpet Design Awards are designed to celebrate the world's best handmade designer rugs. Also, as part of the program, the juried showcase for important floor covering innovations, HFUSA client, Mannington Mills, featured two of its latest floor covering solutions.
"The Carpet Design Awards presented at Domotex and the Innovations@Domotex program celebrate high-end carpet designers and flooring manufacturers who are creating floor coverings that will be sought after on a global level," said Larry Turner, CEO of HFUSA. "For U.S. carpet designers and flooring manufacturers, exhibiting at Domotex it is the perfect way to break into the European, Asian and South American markets. Furthermore, winning a Carpet Design Award or submitting a product to Innovations@Domotex brings greater international visibility, trade media attention and notoriety before, during and after the show."
The Carpet Design Awards cover eight categories. Attendees were able to gain optimal exposure of rug and floor coverings displayed in a special area of Hall 17, the showcase hall for high-end handmade rugs. More than 250 designer pieces from 23 countries were submitted for the Carpet Design Awards. Rugs were judged with regard to design and design concept, material, finish, texture and quality, as well as sustainability and branding. 
Art Resources, a Los Angeles-based designer of 13,000 unique and program high-end rugs, won the Best Traditional Design category award for its "Classic Revival" collection. The owner of Art Resources, Jack Simantob, said, "After many years of producing rugs in the U.S., we knew Art Resources was well represented by most of the high-end retail distributors in North America and Mexico and if we wanted to grow, we needed to reach a broader global audience. Because Domotex is the world's gathering place for floor covering industry professionals, we decided to exhibit to connect with retailers in Europe, South America and the Middle East. We had a terrific show and received the attention we sought from prospective clients based on our award winning design achievements. We are excited about the new business opportunities we secured this year and expect to increase our footprint at Domotex 2016." 
Wool & Silk, a New Jersey-based designer of high-end, hand-made rugs, won the Best Modern Collection award category for its "Steppe" collection. Exhibiting at Domotex since 2012, Wool & Silk has won this category three years in a row and has won a total of five Carpet Design Awards.
"We were a small company in 2012 when we first exhibited at Domotex," said Erbil Tezcan, Wool & Silk's award winning designer. "We have made it a point to expand our booth space at Domotex every year since then. As a result, Wool & Silk is now internationally recognized, tripling our business through consistent increased global sales. HFUSA has been very supportive working closely with us to help expand our business through marketing initiatives that ensure we receive a full return on our booth space investment."
Exhibitors who are chosen to display their latest innovations at the Innovations@Domotex program generate face-to-face contact with interested retailers, craftspeople and architects, stimulating new business and valuable networking. The Innovations@Domotex program is a juried product showcase conceived to focus on floor covering innovations where Domotex attendees can discover modern, imaginatively designed floor coverings that are technologically innovative and of the highest quality.
HFUSA exhibitor, Mannington Commercial was chosen to display two innovative floor covering products at Innovations@Domotex. The firm showcased its luxury vinyl tile (LVT) flooring for the resilient floor covering category, as well as submitted a special carpet collection inspired by three cities—Nashville, Philadelphia and Seattle called Design Local in the textile floor coverings, fibers and yarns category.
"We have been attending Domotex for several years now and have successfully grown our sales across Asia and core countries in Europe," said Alex Jauregui, senior vice president of carpet business for Mannington Commercial. "By consistently exhibiting at the show, Mannington Commercial has successfully fostered long-term relationships and created new business leads. Being chosen to be a part of the Innovations@Domotex program helped us expand our visibility at the show this year and we plan to submit new products again next year."