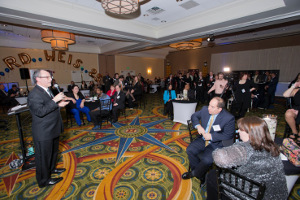 Randall Weis, owner of RD Weis Cos. addressed guests at the company's 25th anniversary celebration.
More than 120 guests attended RD Weis Cos.' 25th Anniversary celebration, held at the Westchester Marriot in Tarrytown, N.Y.
The guest list included family, friends, vendors, customers and RD Weis employees.
The event featured a champagne-themed entrance complete with balloons, a photo shoot as guests arrived, dinner, dancing and remarks by owner Randall Weis.
Weis started the company in 1990 as a full-service flooring provider specializing in environmentally safe flooring solutions for commercial interiors. As a member of Starnet and with six locations throughout the Northeast, RD Weis offers commercial clients and design professionals a broad range of floor covering products.