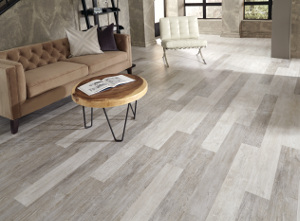 Tarkett will update its PermaStone Collection with 35 new skus, made up of three woods, eight stones and four hybrid designs.
Tarkett announced an update to its PermaStone collection with 35 new SKUs spread across three woods, eight stones and four hybrid designs.
The new wood design, called Borealis Pine, is a broad-washed pine inspired by mountain, woodland and coastal lodging styles. The neutral tones evoke the settings and the retreats one might find there, according to the company. The planks are available in 6 x 48-inches with a rolled edge for a distinctive, individual plank look.
SandStone is available in sizes 12 x 24- and 16-inches. The long paver format of SandStone offers a serene texture brimming with character and colors found in nature's quiet places. The SandStone design comes in four color options with a very subtle texture that looks so real, only a touch will tell you otherwise, according to the company.
Another stone design, Rush, offers hints of quartz, granite and slate similar to those found in dramatic mountain peaks and comes in four on-trend colors. This stone is available in 12 x 24- and 16-inches. The latter offers a rolled edge with the Tarkett-exclusive GroutFit embossed, two-sided faux grout, which allows for a seamless installation.
Repose is a truly unique pattern that combines the look of concrete and rustic oak for a beautiful hybrid design, noted the company. It provides a warm, rustic, urban feel that complements the on-trend reclaimed and upcycled materials popular today. The 12 x 24- and 12-inch rolled edge tiles can be installed separately or mixed together for a modular look. Repose also comes in 6 x 48-inch rolled edge planks.
For more information, visit tarkett.com.