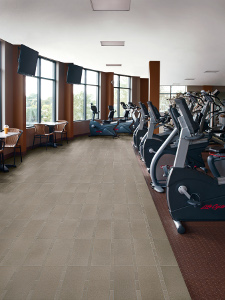 Ready to Wear, new from Crossville.
Crossville's new Ready to Wear collection of porcelain tile mimics the texture and look of textiles.
According to the company, the line was meticulously developed to capture the classic warp and weft of fabric in both tactile and visual representation. Through nuanced, woven detailing enhanced with subtle strands of shimmer, Ready to Wear achieves a subdued, dimensional appearance that's well suited for both commercial and residential applications.
"You can dress up or dress down your designs with this collection—just as you could style an outfit with a favorite pair of jeans or a great tweed blazer. It's really versatile," said Lindsey Waldrep, Crossville's vice president of marketing.
Ready to Wear is offered in eight color options: Flannel Suit, Smarty Pants, Buttoned Up, Decked Out, Hand in Glove, Hats Off, Perfect Fit and Off the Cuff.
12 x 24-inch calibrated field tiles are complimented by 2 x 6-inch tiles, as well as coordinating bullnose trim pieces to finish out the look. Ready to Wear is recommended for interior walls and floors and exterior walls in both commercial and residential applications.
For more information, visit crossvilleinc.com.