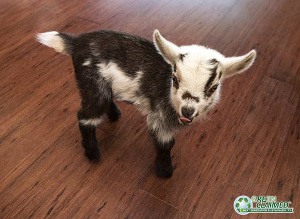 Geronimo, Cali Bamboo's office goat, on the company's new Cocoa Fossilized Eucalyptus Flooring. 
Cali Bamboo has introduced two products to the market: Charcoal BamDeck composite decking and GreenClaimed's Cocoa Fossilized Eucalyptus flooring.
"As green construction continues to become more popular, offering an all-encompassing selection of products to meet every design need is a top priority," said Jeff Goldberg, founder and CEO of Cali Bamboo. "We have listened to our customers and are excited to expand some of our most popular decking and flooring lines to include two new highly-demanded styles and colors."
Made from 60% reclaimed bamboo fibers and 40% recycled HDPE plastics, BamDeck Composite is developed with CoreMax Technology, increasing tensile strength by 35% while reducing weight by 20%, according to Goldberg. Tests performed by a licensed third party in accordance with American Society for Testing and Materials (ASTM) specifications found that BamDeck Composite was more than twice as hard, four times as strong, absorbed one tenth as much water and scored lower on the flame and smoke tests compared to the composite competition, according to the company. The new Charcoal BamDeck Composite, a dark grey color perfect for sleek and modern outdoor designs, is now available in 3G wide plank, 3G standard plank and fascia boards.
Created with Cali Bamboo's proprietary strand-woven fossilized manufacturing process, GreenClaimed's Eucalyptus flooring line features twice the hardness of traditional timbers, making it pet-friendly, high heel safe and backed by a 50 year residential warranty. The new Cocoa Eucalyptus color features a dark, exotic look and wood grain similar to dark walnut with all the eco benefits of a rapidly renewable material.
For more information, visit calibamboo.com.