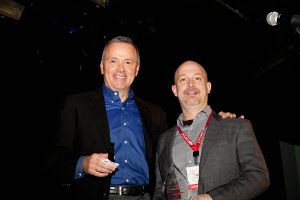 Geoff Gordon, left, Fuse Alliance's executive director, with Tim Johnson of RGO Flooring, winner of Fuse's Outstanding Communication Award.
Fuse Alliance presented its 2014 annual supplier and member awards at the buying group's recent annual convention in Las Vegas.
Dal-Tile captured the Best Product Award. The product category is awarded to the supplier who has a product collection with the most depth and range of collection, aesthetic and market acceptance, and an overall value of offering. Schönox was presented the Best Support award for outstanding local, regional and national support of members throughout the Fuse network. Finally, Tandus Centiva captured two awards—Best Service Award, which is presented to the supplier with outstanding customer service, systems and technology, and communication, and for the first time, captured Supplier of the Year.
For six years in a row, Johnsonite has won Supplier of the Year. With stellar customer service to the organization's members, Johnsonite received many kudos in the member surveys and finished a very close second, noted Geoff Gordon, Fuse's executive director.
In addition to supplier awards, network members were recognized for overall commitment to the organization. RGO Flooring, based in Canada, received the Outstanding Communication award. Continental Commercial Floors, with locations in Ohio and Pennsylvania, received two awards including Outstanding Reporting and Follow Up and Exceptional Network Loyalty. Commercial Surfaces, Texas, and Pavilion Floors, Massachusetts, received awards for Exceptional Network Loyalty. Flooring Systems, with locations in Missouri, received an award for Outstanding Commitment to Sustainability. Unit Design, based in Louisiana, received an award for Outstanding Reporting and Follow Up and captured the Fuse Spirit Award.
For more information, visit fusealliance.com.