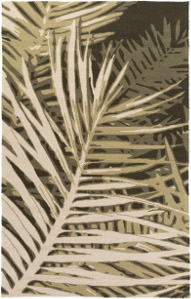 Surya has partnered with landscape artist William Mangum for three new rug collections.
Surya will launch three rug collections from North Carolina landscape artist William Mangum at April's High Point Market, April 18 to 23 in High Point, N.C.
For more than 35 years, Mangum has captured in his paintings the essence of the American landscape. 
From the aura and textures of the Blue Ridge Mountains to sparkling, windswept shorelines, Mangum's rug designs artfully infuse elements of the natural world into living spaces to create inspired tapestries that celebrate the lives of the inhabitants, according to the company.
Mangum's rug collections are Artisan—overscaled fern and pine motifs are brought to life in this outdoor safe collection of hand-hooked rugs featuring tonal hues in a natural palette; Essential—hand-woven jute and colors of earth blend harmoniously in this textural collection, echoing the rugged beauty of the ever-changing landscape, and Remarque—impressions of sand and water kissed by dappled sunlight evoke a sense of gentle movement in this collection of hand-knotted wool rugs with viscose accents. 
"My goal as an artist is help people to become astute observers of the world around them, to encourage them to pause and appreciate nature's inherent ability to shape our mood and comfort levels," said Mangum. "With these new rug collections for Surya, I wanted to provide an accessible way for people to bring the beauty of the outdoors into their home environments while also complementing the latest home decor and fashion trends. The Surya team has been a great partner in translating my artistic vision into timeless, handcrafted rugs that provide the perfect canvas upon which individuals can express their unique style."
Satya Tiwari, Surya's president added, "As a lifelong student of nature, Bill Mangum possesses the rare ability to see beyond the surface of the landscape to capture its intrinsic beauty in a way that really speaks to the viewer. Likewise, at Surya, we are always looking beyond what has been done before to find new and different ways to bring inspired design into the home. Working with Bill is a natural fit as we continue to expand our product portfolio to reflect diverse styles and themes, and we are excited to share these new collections with our customers."
Market attendees can explore the new rug collections at Surya's flagship showroom, Showplace 4100, which will be open daily from 8 a.m. to 8 p.m.
For more information, visit surya.com.