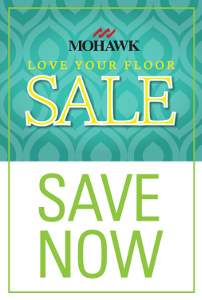 Mohawk's Spring sale begins today and runs through May 11.
This year's "Love Your Floor Sale," Mohawk's Spring sales event, which began today and runs through May 11, will feature an expanded package of promotional and incentive tools that are based on retailer feedback, and take advantage of online lead generation to drive retail traffic, according to the company.
"Mohawk continues to strive to be the preferred supplier for our customers," said David Duncan, Mohawk's senior vice president of marketing and sales operations. "Through the sale, we're focused on utilizing strategic digital marketing efforts to connect with in-market consumers and drive them to our premier network of retailers. We expect our retailers to be successful with the Love Your Floor Sale."
According to Duncan, the Love Your Floor sales event will include offers such as:
•Consumer coupons on select styles at the point of purchase.
•Promotional product blankets to support the sale.
•Consumer finance offers, including no interest financing until January 2018.
•Increased opportunities for retail sales associates to earn Mohawk Infinite Rewards points.
•A professionally designed point-of-sale kit that delivers the Love Your Floor campaign message.
New this year, only for Floorscapes and ColorCenter Elite retailers interested in a targeted local campaign, Mohawk will drive traffic to participating retailers through its online advertising, website and social portals. Using targeted search engine marketing and analysis of retailers' trade area, Mohawk Five-Star Lead Booster has proven to generate five times the leads, which gives retailers five times the opportunity to close five times the sales, according to the company.
Mohawk helps aligned retailers further target consumers in their local markets with a complete Love Your Floor customizable advertising kit. Ready-to-go advertising materials include print, television, radio, billboard and online ads, which all can be easily adapted to include the retail store brand for greater impact. Direct marketing materials are available as well as assistance with social media messaging.
Committed to helping its retailers lead in digital marketing, Mohawk has incorporated a suite of digital tools to help optimize sales during the Love Your Floor event. Mohawk's social sweepstakes will serve up Love Your Floor Sale coupons, which consumers can download for redemption at participating retailers.
Also for the first time, Mohawk is offering aligned retailers free B-roll TV footage that can be used to create their own Love Your Floor Sale spot. Each contains product, room scene and lifestyle footage for soft and hard surface flooring.
"Our goal is to help our retailers capitalize on the selling season by giving them the best tools to encourage consumers to purchase their products," added Duncan. "The Love Your Floor Sale is a privilege of aligned membership; aligned members get the resources that only Mohawk can bundle and provide."
For more information, visit MohawkToday.com.