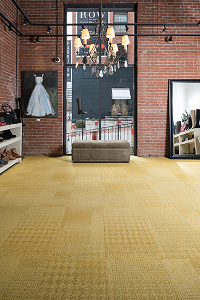 Mannington Commercial's new Redefined Collection is inspired by houndstooth and chevron patterns.
Mannington Commercial's Redefined Collection, two products inspired by houndstooth and chevron patterns, are available for specification.
Created in collaboration with international architecture and design firm Corgan, Check and Herry are fashion classics re-imagined as 18 x 36-inch modular carpet.
According to the company, the design impulse behind the collection was not only to refresh timeless patterns for today's projects, but to do so in a way that is both timeless and timely. The patterns can be used in today's projects, to emphasize the energy of a marketing area or the sophisticated quiet of a boardroom, with transitional and way finding cues between. Redefined's textural patterns appear and disappear, fading in and out of focus, enabling a custom look. The patterns are designed to create a random effect when installed in a simple, linear monolithic fashion.
Redefined is available in a palette of 15 running line colors, and ideal for corporate construction and renovation, as well as retail, higher education, hospitality and healthcare.
According to the company, Redefined is constructed of Antron Lumena 6,6 nylon for long-term performance, and available on Infinity Modular high performance backing with pre-consumer recycled content, engineered for strong performance, with tuft bind and dimensional stability.
For more information, visit ManningtonCommercial.com.