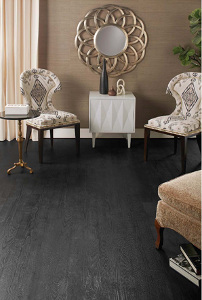 Quick•Step's Envique Collection in Tuxedo Pine has been added to WFCA's consumer media tours.
Quick•Step's new Envique Collection in Tuxedo Pine has landed a spot in the World Floor Covering Association's (WFCA) consumer media tours.
"Each Spring, the WFCA gathers the most impressive new products and presents them to leading home and shelter publications in New York, Des Moines, Iowa, Birmingham, Ala., San Francisco and Los Angeles," said Paij Thorn-Brooks, vice president of brand marketing for Unilin, Quick•Step's parent company. "During the tours, WFCA meets with editors from magazines such as House Beautiful, Coastal Living, Good Housekeeping, Better Homes & Gardens, Interior Design and dozens of others. Each year, WFCA's goal is to present these influential editors with the 'latest and greatest' products from the flooring industry."
According to Thorn-Brooks, when WFCA selects products for inclusion, it is especially interested in products with eye-catching, new designs. "Quick•Step's Envique Collection, Tuxedo Pine definitely fits that bill. Tuxedo Pine is a gorgeous, life-like replication of 'fire–charred' wood. When laid throughout an entire room, the result is stunning."
Roger Farabee, senior vice president of marketing for Unilin, added, "For years, our distributors and retailers have been wanting a black colored product in the Quick•Step line, but we held off until we had something that was truly special enough to live up to Quick•Step's standards for style and design. The fire-charred design and color achieves the level of style we were waiting for."
For more information, visit quickstepstyle.com.