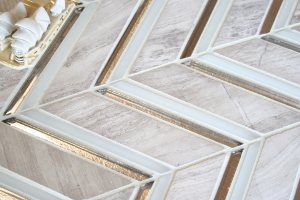 The Opera Line of Mosaic Tiles by Maniscalco was inspired by The Sydney, Australia Opera House.
Maniscalco, the Australian-rooted designer and wholesaler of high-quality glass, stone and metal decorative tiles, has brought The Opera Line of mosaic tiles to North America.
This collection was inspired by The Sydney, Australia Opera House, which is well known for its flexibility of being able to provide on-stage venues of operatic, ballet, both classical and popular music performances.
The Opera Line of mosaic tiles makes available a series of designer products with this same flexibility and function, bringing a combination of sophisticated Old World and modern contemporary design elements together, resulting in a versatile series of products.
The Opera Line consists of two series of products: the Sydney Cove Series-Arabesque, which is a fusion of antiquity and modern waterjet technology, combining stone and glass to achieve a classic design option, along with the Studio Café Series-Chevron, which epitomizes contemporary form. Its merger of stone, glass and mirrored glass elements offers designers limitless style solutions, ready to coordinate with a wide variety of today's fundamental building materials.