Ceramics of Italy is heading to Orlando, Fla., April 14-17 for Coverings, the global tile and stone experience, bringing with it an array of Italian surfacing products, which are now available in North America.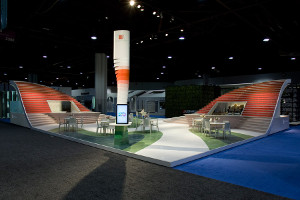 Ceramics of Italy is heading to Orlando for Coverings. 
Ceramics of Italy Pavilion will feature more than 100 Italian tile brands, showcasing the latest technological advancements in architectural porcelain, trending designs inspired by art movements and an offering of natural material alternatives, according to the organization. 
The Ceramics of Italy booth will be transformed into Piazza Ceramica—a topography-inspired exhibit melding contemporary Italian design with the vibrant energy of Orlando.
The Ceramics of Italy press conference will take place on April 15 at 4 p.m. in Room S210B, where representatives from the association will discuss the state of the industry and announce the winners of the 2015 Ceramics of Italy Tile Competition.
The celebration will continue that evening with the presentation of the 2015 Confindustria Ceramica North American Distributor Award during the association's annual private reception, A peritivo Italiano. Later in the week, attendees can learn about the latest "Trends in Tile" where Italian manufacturers lead the way—with Christine Abbate, Marianne Cox and Ryan Fasan on Thursday, April 16 at 2:45pm in Room S320ABC.
Ceramics of Italy will host special VIP tours during Coverings, offering an insiders' look into the Italian ceramics industry. On Tuesday, April 14 and Thursday, April 16 from 1 to 3 p.m., registered industry professionals will be treated to an authentic Italian lunch, special goodie bag and presentation on the latest design trends and technical innovations, followed by a guided walking tour of the Ceramics of Italy Pavilion.
Ceramics of Italy also will participate in the sixth edition of the show's annual live attraction: the Installation Design Showcase. Over the course of four days, a team of Five Star Contractors from Michael's Custom Tile will build a high-end resort bathroom from the ground up in booth 461B. Designed by Florida-based architect Diana Chase, AIA, of HHCP Architects, the California-rustic vignette will showcase naturalistic tiles from a number of Italian companies including Cotto D'Este Kerlite, Marca Corona, NovaBell and Rex Ceramiche. Showcasing the versatility of Italian porcelain, the tiles will be installed on the floors, walls, steps and countertops in addition to less conventional uses such as furnishings. 
While at the show, industry professionals are invited to register for the Ceramics of Italy VIP tour at:
bit.ly/coveringsvip
.