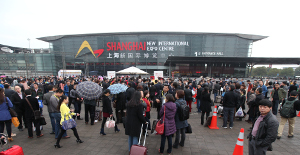 Domotex asia/ChinaFloor show officials reported a total of 46,115 attendees and 1,275 exhibitors at this year's show.
According to Domotex asia/ChinaFloor (DACF) show officials, a total of 1,275 exhibitors, among which 289 coming from 38 different countries, participated in the show.
Visitors totaled 46,115; of this number, 11,374 came from over 100 countries outside of China. 60.7% of the space was rebooked on spot, confirming exhibitors' satisfaction on the value and the opportunities that this trade platform can bring to their business.
Some of the newest products and ideas presented at DACF were brought to the spotlight through the InnovAction flooring campaign. 18,706 visitors voted for their top picks of products and innovations and selected the top 10 products for each of the three sectors. Winners were: Star-living, Dasso, Nature, Shenzhen Kingforest, Jinqiao Flooring, Zhejiang Shiyou, Zhejiang Yuhua, Ciambella Legnami, Beamy International and Zhejiang Yongyu for wood sector; Weihai Shanhua, Weihai Haima, Suzhou Duolaiyun, Wuxi Fuxing, Zhejiang Xingyue; Beijing U-Living, Nantong Homedec Weiya, Low&Bonar and Smart for carpet sector; Gerflor, Novalis, Armstrong, Tarkett, New Tech, Changzhou Liberty, Flooring Industries, National Flagship, Zhejiang Sunflower and Guangzhou Tongxin for resilient flooring.
This year's InnovAction center showcased: "Back to Nature with Bamboo" by Dasso Industrial Group; "Source-Nature" by Weihai Shanhua Carpet Group; "Aurora" by Newspec; "Carol Land" by Suzhou Duolaiyun Houseware; "BIO +STYListic" by Gerfloor; "Symphony in Colors" by Novalis Innovative Flooring and "Infinity" by Star-living.
DACF expanded the trading platform by organizing concurrent events with related industries and increasing the opportunity for information exchange, education and cross marketing, according to show officials. One of the top highlights of these concurrent professional forums was the China International WPC Development Forum. With wood plastic composite (WPC) becoming a popular product in the global flooring industry, the forum attracted around 200 attendees. The latest developments and trends of this sector were presented by Bryan Fairbanks, executive director of Trex and Takeyasu Kikuchi, CEO of WPC Corp.
For more information, visit dacf.cn.