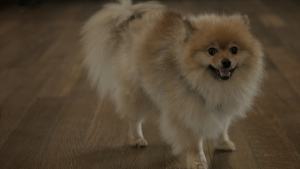 Nydree's new Hardwoof is a line of pet-friendly flooring.
Nydree Flooring has developed Hardwoof, a pet-friendly product line to meet the demands of dogs and their owners, according to the company.
"Our Hardwoof engineered wood flooring offers dog lovers and facilities that accommodate dogs the accessible luxury and performance of our commercial wood flooring with an all new specially formulated finish with industry leading scratch and wear resistance," said Jason Brubaker, Nydree's vice president of sales and marketing. "Hardwoof products incorporate the same acrylic-infused technology, durability and sustainability for which Nydree is known."
The Hardwoof collection features the natural warmth, beauty and sound of real wood with the durability of acrylic and is available in 12 styles on three species— maple, hickory and ash.
The new dog-friendly finish features taber abrasion resistance of more than 4,000 tabers, dent resistance up to 8,000 per square inch (psi) and scratch resistance. The flooring material is a low-emitting material that is FloorScore certified. The marine-grade, Baltic birch plywood platform is CARB phase 2 compliant, and the laminating glue contains no added formaldehyde.
"Nydree has remained committed to developing the highest quality, preeminent hardwood flooring technologies to a market that expects and desires premium products for their loved ones—the four-legged and two-legged variety," said Brubaker. "Hardwoof allows our dog-loving clients and friends to bring our dedication to sustainability, performance and style into their businesses and homes."
For more information, visit hardwoof.com.