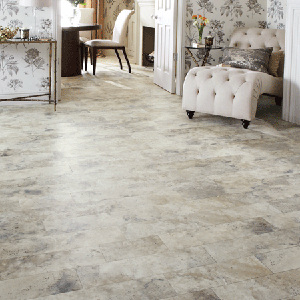 Karndean's new Art Select Stones collection features designs inspired by travertine, marble, slate and limestone.
Karndean Designflooring's newest collection of resilient tiles, Art Select Stones, features designs inspired by travertine, marble, slate and limestone.
Available now, these 16 new stone looks are featured in a variety of sizes and formats, including Karndean's new FreeLengths. Available in travertine-effect tiles, FreeLengths replicate stone plank visuals through 6-inch wide tiles in varying lengths. These tiles provide a random plank appeal and a wide variety of design options. In addition, the Art Select Stone collection features large format tiles in 16-inch and 18 x 24-inch sizes, as well as random Versailles patterns.
According to the company, Karndean's designers traveled the world to find the original stones from which this line was derived. From the limestone cliffs of the Channel Islands and historic slate quarries in the Welsh countryside, to the slate steps of a former Parliament house in Melbourne, world famous marble quarries in Tuscany, and even the travertine terraces of natural hot springs in Yellowstone National Park, customers can share the inspiration of these experiences in the comfort of their own home or commercial space.
Furthermore, Art Select Stones have a heavy duty 30mil wearlayer, making them ideal for commercial and residential spaces alike. These LVT tiles offer easy maintenance and none of the practical drawbacks of their natural counterparts, according to the company.
"This is the culmination of five years of development, which included traversing the world to fashion some of the most beautiful inspiration stones imaginable," said Emil Mellow, Karndean's vice president of marketing. "To bring out the full potential of these stones, we've also incorporated size formats that are both cutting edge and on trend. We hope that our travels in search of natural beauty and our meticulous eye for detail have created an exceptional line of products that will inspire our customers in their own design projects."
For more information, visit karndean.com/artselect.