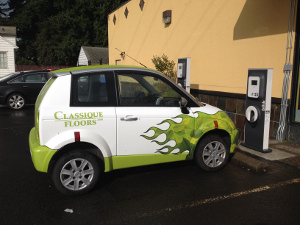 As part of its efforts to be green, Classique Floors in Portland, Ore., owns three electric cars and has two charging stations at its store.
Editor's Note: On the occasion of this year's Earth Day, the following is an exclusive story submitted to Floor Trends by Flooring America about some of the creative ways three of its members are doing things to make themselves—and the planet—greener.
When it comes to recognizing the importance of going green, these three Flooring America members have done an outstanding job and have realized tremendous benefits both financially and personally.
For member Judith Huck, who owns Classique Floors in Portland, Ore., being environmentally conscious is a way of life and an integral part of her company's culture. Recognized by Drive Oregon for its leadership in promoting clean transportation options to its employees, Classique Floors has three electric cars and two charging stations at its store, saving 1,000 gallons of gas a year. The company also recycled 110.69 tons of carpet and 58.39 tons of other recyclable material including cardboard, plastic and wood in 2014. The company receives annual visits from a Portland "Recycle At Work" liaison to keep Huck and her team up-to-date on recycling opportunities.
Within the store, the employees are encouraged to compost any food waste; ceramic coffee mugs and water glasses are offered instead of paper or plastic cups. They use cloth towels in the kitchen over paper towels. Making these small changes can have a big impact on the environment. In addition, the company has moved to using "repurposable" displays instead of needing to purchase new ones. It also repurposes pallets instead of discarding them. By emailing proposals and agreements to clients, office paper use has also been minimized. Any office paper purchased has recycled content and is reused by saving it for printing on the backside.
Huck and her team get creative with discontinued mosaic tile samples using the tiles for art projects. At the time of this article being written they were making a concrete bus bench and garbage collector. Huck also donates discontinued carpet samples to local elementary schools for classroom use.
Jim Garner, owner of Sergenian's Floor Coverings in Madison, Wis., is no stranger to recycling. In 2007, Sergenian's started Wisconsin's first and only comprehensive carpet reclamation program. The company has diverted over 6.4 million pounds of carpet and padding from local landfills. The company has been recognized both nationally (Mohawk Greenworks Award) and locally (InBusiness Magazine Sustainability Award) for its sustainability efforts.
Garner chose to implement the reclamation process to be a good corporate citizen. He notes that whenever a business decides to join the reclamation program there is a cost involved. However, Garner believes the positives outweigh the negatives.
To date, Sergenian's has kept 8,1609,624 pounds of carpet waste out of the landfills. Over 27.5% has gone directly back to the manufactures to make new flooring products, 34.5% has gone to waste-to-energy in Wisconsin and 38% has been used in other products.
Over the last three years, in coordination with University of Wisconsin housing, Sergenian's has recycled nearly 50,000 pounds of used dormitory carpet and padding that had been otherwise destined for Dane County landfills. What's more, Sergenian's Carpet Reclamation Drop-Off Program allows anyone the ability to drop off carpet at its distribution center and the company will recycle it at a modest cost.
Solar energy makes financial sense for Patrick Moore, owner of Flooring America, based in Dunedin, Fla. He recently installed solar energy panels at his store as well as purchased an electric car for company use.
Moore explains, "It is really a no-brainer when it comes to the savings for me as a business owner for installing solar panels. I am estimated to save roughly $150 per month on energy costs, with the life of a typical system lasting 25 years. To install the system, it cost $33,000 with a $20,000 rebate from Florida-based Duke Energy. There is an additional 30% tax credit on the $13,000 difference, leaving the net cost of the unit to be about $9,000. What's more, the financial value of a building rises the day solar is installed. So for me, I am already ahead of the game on my investment."
With a sales team that travels up and down the Florida coast, the purchase of an electric vehicle was also financially sensible for the company. After the manufacturer's rebate and available tax credits, he said the cost of an electric vehicle is about $6,000 more than a comparable non-electric vehicle. However, despite the higher cost, the estimated fuel savings is an estimated $1,500 per year and the company purchased its own electric charging station, eliminating the electricity cost.
Additionally, the company has implemented a carpet recycling program. All of its old carpets and pads are being recycled. 70% of the carpet from installations can be recycled into new carpet and virtually the entire pad is recycled into new carpet cushion, with 75,000 pounds of carpet per year being diverted from landfill.
With Earth Day upon us, it's never too late to consider implementing green programs into your business. You can think big or small. Whatever you choose, becoming eco-friendly can have huge benefits.
For more information, visit  flooringamerica.com.