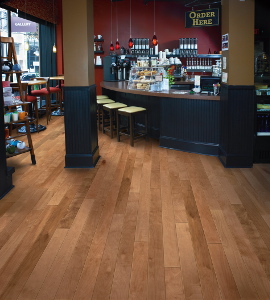 Armstrong has added Performance Plus hardwood, shown here, and Midtown hardwood to its commercial offering.
Armstrong Commercial Flooring has added two products to its portfolio—Midtown hardwood with rich grain patterns in a low gloss offering and Performance Plus hardwood in low and medium gloss options. These new products are perfect for designers who wish to create unique, distinctive commercial spaces, noted the company.
Named for a city's cultural heart, Midtown embodies the diverse style of a legendary cityscape. According to the company, Midtown is an ideal choice for property management and multi-family housing such as military base quarters, as well as other commercial spaces in retail, education, healthcare, assisted living and hospitality.
Performance Plus withstands the punishment of day-to-day commercial environments, according to the company. Performance Plus also features an aluminum oxide finish for added surface protection and resistance to scratches and stains. Rounding out the distinctive looks of the product is the use of species including birch, cherry, hickory, maple, walnut and white oak.
"Many designers seek the beauty of real wood and desire randomness in raw wood looks, which are less likely to show scratches, scuffs and indents," said Patricia Fanty, Armstrong's marketing manager. "Armstrong answered the market with its new hardwood collections in multiple gloss finishes with colors and patterns that can also help camouflage everyday foot traffic in commercial spaces. Since gloss level does not affect the durability or performance of a floor, with either a low or medium gloss finish you end up with a beautiful, highly desired natural wood look with the durable performance required for commercial environments."
According to Fanty, the Performance Plus Hardwood Custom Color Program provides customers with the option to match color schemes, while the Midtown Custom Hardwood Program offers the versatility to create a distinctive floor using a choice of nine species, multiple colors, textures, widths, thicknesses and acoustical features.
For more information, visit armstrong.com/commercialflooring.