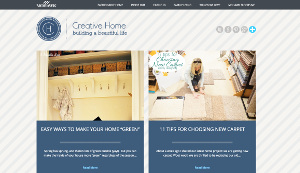 Mohawk received four Hermes Creative Awards for its SmartStrand Forever Clean campaign and Creative Home blog.
Mohawk Flooring has won four Hermes Creative Awards.
According to the mill, this international recognition, judged by the Association of Marketing and Communication Professionals, is a testament to the company's priority of creatively and effectively sharing Mohawk's innovative programs and flooring products with retailers and consumers across the world.
Two platinum awards, the most prestigious award offered through the Hermes Creative Awards competition, were received for Mohawk's SmartStrand Forever Clean campaign in both the product launch and publicity campaign categories. Mohawk also took home two gold awards for its Creative Home Blog, winning in the blog category and in the e-newsletter category for Mohawk's Blogger Bulletin.
"Our customers come first, and we are constantly looking for new ways to drive consumers to Mohawk retailers while sharing our products' most important features and benefits. These types of wins, which compare our programs to thousands of industry-leading campaigns, are indicators that we are on the right track," said Mollie Surratt, senior director of public relations and content for Mohawk. 
Mohawk introduced its SmartStrand Forever Clean by putting the stain-resistant carpet to the test on the Tough Mudder obstacle course. After being stomped on by more than 10,000 muddy competitors, the carpet was successfully cleaned, according to Surratt.
Mohawk's Creative Home blog has become one of the company's most rich and vibrant communication assets. The blog hosts educational and engaging content created by home and DIY bloggers. Blog posts about a range of topics create multi-use posts that can be leveraged in social media and by the company's retailer base throughout the year.
"Most importantly, our blog content is meant to be inspirational and engaging for our customers and readers, and ultimately show that we are a lifestyle brand interested in consumers' day-to-day lives," added Surratt. "We don't just start and stop with flooring. To create the best products, we have to be connected to the holistic home experience and stay committed to who our customers are as people."
The Hermes Creative Awards competition garnered 6,000 entries from the U.S., Canada and other countries. Entries came from corporate marketing and communication departments, advertising agencies, public relations firms, design shops, production companies and freelancers.
For more information, visit mohawkflooring.com.