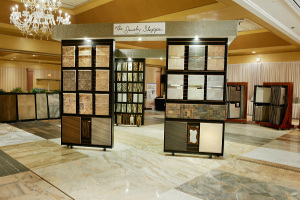 Arley Wholesale is preparing for its annual expo and golf classic.
Arley Wholesale will host its 13th annual Arley Wholesale Tile & Stone Exposition on Tuesday, June 16 at the Radisson Lackawanna Station Hotel in Scranton, Pa. This will conclude the three-day celebration, which will include the Arley Golf Classic.
"This year's event will feature many new value-added products," said Scott Levy, Arley's executive vice president of operations. "The market continues to rebound, especially the builder sector. As a result, Arley will introduce the firm's new iCat digital catalog. Our media team will be available to show attendees the amazing, interactive features of iCat. This is just another benefit we are offering our customer base, helping them build their own brand. iCat, combined with our recently enhanced Design App, are indications of ongoing investments we are constantly making in our customers. Anyone with a browser, no matter if on a computer or mobile device, will be able to use our iCat digital catalog. Anyone with an iPad will be able to use our Design App, as well."
As a wholesale-only supplier, Arley has created a strong private label program. Levy noted that attendees will find many new products, including a unique mosaic offering making it even easier to build an effective stocking program.
"We are finding that more and more dealers are seeking to bundle their overall purchasing with a single wholesale source. The efficiencies of this approach have become apparent in building a more profitable business for our customers. Through a solid private label program, our goal is to make our customer the brand," he added.
For more information, visit arleywholesale.com.