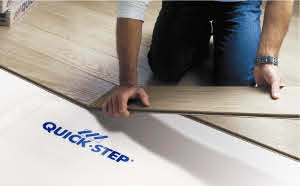 Quick•Step flooring was used to transform a home on Oprah's "Home Made Simple" show.
Quick•Step flooring was selected by the interior designer for Oprah's "Home Made Simple" television show to serve as a design element in a living room transformation.
The room transformation was for Toni Nettles, a Habitat For Humanity homeowner partner who lives in the Watts neighborhood of Los Angeles.
Nettles' Habitat For Humanity charity home was built in 1995 with the help of former President Jimmy Carter and First Lady Rosalynn Carter. During the original home build, President and Mrs. Carter hammered nails, hauled wood and installed siding on the home, alongside other volunteers.
The original flooring had been in the home for 19 years, so it was in need of replacement, according to Paij Thorn-Brooks, vice president of brand marketing for Quick•Step. "Home Made Simple's" interior designer chose Quick•Step's Aged Chestnut planks from the Dominion Collection to serve as the design foundation for the room. 
"An important premise of "Home Made Simple" is that the show's interior designers purposely use products and make changes that are beautiful, stylish, affordable for consumers and easy to achieve," said Thorn-Brooks. "The level of realism and sophisticated design in Quick•Step flooring brings the authentic look and feel of a hardwood floor into a home, at a price that fits into most decorating budgets."
The designer's vision was to create a living room with a warm, comfortable, inviting feeling about it—making Aged Chestnut an ideal selection. According to Thorn-Brooks, Aged Chestnut's high-quality laminate planks offer the visuals and texture of an expensive hand-scraped hardwood floor, but at a price attractive to the majority of a retailer's customers. The color variation as well as the appearance of natural knots, splits and wood graining add to the high-end, yet inviting hardwood decor.
For more information, visit us.quick-step.com.