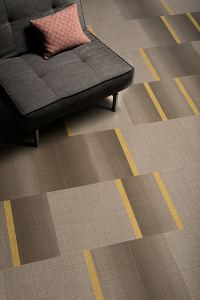 Mannington's Connected Collection of LVT received an Award of Excellence in the IIDA/HD Competition.
The 19th Annual Interior Design Association/Hospitality Design (IIDA/HD) Competition honored Mannington Commercial's Connected Collection luxury vinyl tile (LVT) with an Award of Excellence.
According to contest officials, products are judged for design innovation, technical advancements, cost and value, environmental responsibility, aesthetics, need and usage within hospitality applications. Performance, comfort, safety, suitability for intended use, durability, accessibility and client/user benefits are also evaluated by the judges.
The Connected Collection, designed in collaboration with global design firm Corgan, brings together a system of formats, gradation, texture and color—all in a single collection of LVT that is designed to coordinate with the Connected Collection of modular carpet, according to the company.
"Our vision was to create a graphically interesting and texturally dimensional product that leverages the usability of LVT. Equally important was creating a palette of colors that puts creative control in the designer's hands," said Lindsay Wilson, principal at Corgan.