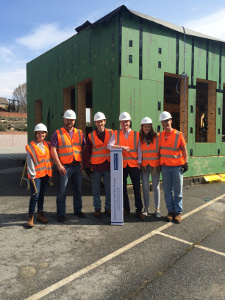 USFloors colleagues with three Clemson grad students, in front of the Indigo Pine construction site. 
USFloors is a sponsor for Indigo Pine, Clemson University's Solar Home, an entry into the U.S. Department of Energy's Solar Decathlon project.
The competition challenges colleges and universities to design, build and operate solar-powered houses that are cost-effective, energy-efficient and visually appealing.
USFloors donated 1,000 square-feet of COREtec Plus, 7-foot Nantucket Oak. According to the company, the durability, functionality and style of this COREtec Plus product naturally fits into the architectural design and aesthetics of the Clemson Solar Home. COREtec Plus, with its 100% waterproof, patent-pending technology and attached cork backing, for sound attenuation, makes it suitable for installation throughout the home.
"This project is a great opportunity for USFloors to partner together with future architects to raise product awareness for COREtec Plus in the architectural and design field," said Margaux Bouckaert, project manager at USFloors. "The hardworking, dedicated students propelling this project have a great energy about them and they are determined to win this competition." 
In association with National Renewable Energy Laboratory (NREL), the U.S. Department of Energy biannually sponsors the international Solar Decathlon competition. The main goal is that the students of 20 participating collegiate teams skillfully blend affordability, consumer appeal, and design excellence with optimal energy production and maximum efficiency of their home design. This national competition challenges the students with innovation and collaboration, helping prepare them for future work opportunities.
Clemson's Indigo Pine team is challenged to collaborate on the design, construction and promotion of a prototypical, three bedroom, 1,000-sq.-ft., low environmental impact, net-zero, solar house that is cost-effective in today's market and comfortable under South Carolina's climate.
"The design of Indigo Pine, focuses on innovative building methods to reduce the energy use in the construction phase of the home," said a program representative. "There is also a strong emphasis on the use of local products for the construction and design of the home, highlighting the southern roots and charm of the home."
The solar house also features 64 solar panels on the roof, ensuring Indigo Pine to be a net-zero energy house. USFloors also has a strong sense of commitment to good environmental practices, as it has also invested in clean, renewable solar power.
"The architectural vision of the students is evident by the way they are combining environmental practices, functionality, affordability and aesthetics in the design of Indigo Pine. Their dedication and positive energy will drive them to perform extremely well in the 2015 Solar Decathlon Competition," Bouckaert said.
For more information, visit usfloorsllc.com.