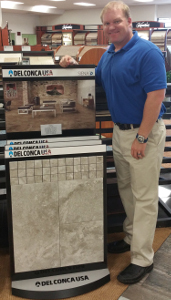 Jason Jones, vice president of Floors 2000, showcasing Del Conca USA tiles, which will now be distributed by Floors 2000.
Floors 2000 is now distributing Del Conca USA tile products.
"Our plan is very methodical," said Juan Molina, general manager of sales and marketing of Del Conca. "Now that our state-of-the-art factory is up and running, producing porcelain tile materials 'Designed in Italy-Made in USA,' we need to align ourselves with the best, most professional distribution partners. Floors 2000 falls into that category."
One of the first Del Conca tile collections that Floors 2000 will be focusing on is the Siena Collection—a modular series of porcelain stoneware with a natural stone look, developed specifically for the American marketplace.
"We believe this beautiful series is absolutely right for our customers," said Jason Jones, vice president of Floors 2000. "[Del Conca USA] has good people, an excellent design team and more, all working together to build their new factory from the ground up."
For more information, visit delconcausa.com and floors2000.com.