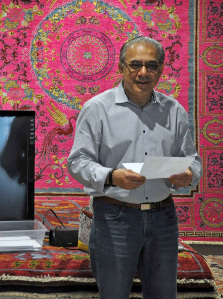 Dover Rugs' Mahmud Jafri co-presented The Art of the Weave during ArtWeek Boston.
Dover Rug & Home and Lucia Lighting & Design will present Lights, Rugs…ACTION! on Tuesday, June 2, from 6 p.m. to 8 p.m. at the Dover showroom in Boston.
Lucy Dearborn, owner of Lucia Lighting, and Mahmud Jafri, CEO of Dover Rug, will present advice on how to complement  rugs with lighting.
This educational event will be presented in partnership with the New England Chapter of the American Society of Interior Designers (ASID-NE) 
Wine and cheese will be served, and advanced registration is recommended as space is limited. Click here to register.
In other news, Dover Rug, in partnership with ASID-NE, recently presented The Art of the Weave, during ArtWeek Boston at Dover's Boston showroom.
This hands-on experience offered participants a glimpse in the art of traditional rug making and textile design, and was facilitated collaboratively by Dover's Mahmud and Hasan Jafri, and ASID's Jill Janasiewicz.
For more information, visit doverrug.com.